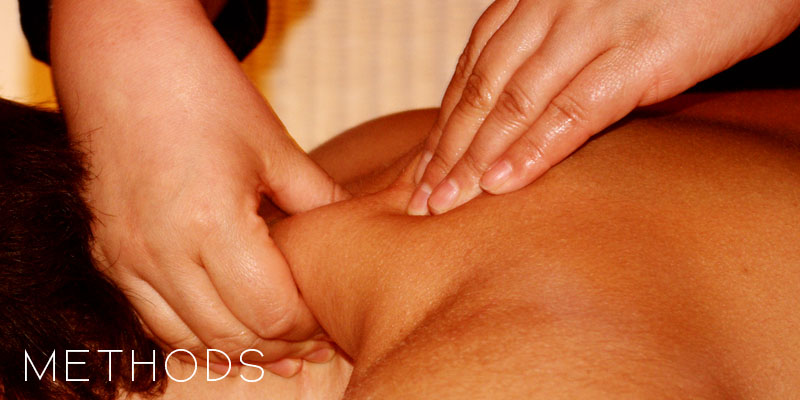 • HEAD MASSAGE
• NAPE MASSAGE
• BELLY MASSAGE
• STOMACH MASSAGE

• KIDNEY MASSAGE
• BODY MASSAGE
• HANDS AND ARMS MASSAGE
• FEET MASSAGE

Other techniques employed : cupping care, moxibustion, acupressure and Guasha treatment (friction with the help of a rounded sides spatula in order to evacuate a swelling due to a bad flow of energy or even a general inflammatory state).

THE EFFECTS ARE :

• Eliminate stress and tensions.
• Relieve headaches, soften dizziness feelings and alleviate muscles soreness.
• Improve blood circulation.
• Reactivation of the energetic meridians.
• Relax the joints, muscles and tissues.
• Body drainage and thinning.
• Rebalance the body and the spirit through a complete relaxation.



There is a wide range of techniques; some of them can release locked energy, others can enhance energy levels, others can balance the flow of energy from the bottom to the top of the body, from the left to the right as well as from a limb to another one and so on.

Blind therapists are particularly skilled in identifying precisely body areas affected by disorders. Indeed, since being more used to coping with the world more than other people from their childhood, the blind have developped a sharp sense of touch. Thus, they are naturally predisposed to locate perfectly afflicted body areas thanks to the acuteness of their sensory perceptions.

Several wellness sessions will enable you to improve and safeguard this inner life force that you will feel as a fullness.

You feel in yourself rise the laughter and the joy that you had somehow lost a long time ago. You begin then to feel that energy is actually a reality on which Chinese medicine has been based for millenniums. When you recover that source of life in yourself, that pleasure lasts and you feel it for a long time. You have retrieved the source of your vital energy. Life becomes as a firework which expresses and realises itself according to your own deep desires.
Avertissement : ce salon ne pratique que le massage traditionnel chinois!

XUE ZHONG HUA 91 rue de javel 75015 Paris | tel : 01 45 79 63 67 | Métro : Charles Michels ligne 10 - Félix Faure ligne 8 - Javel RER C