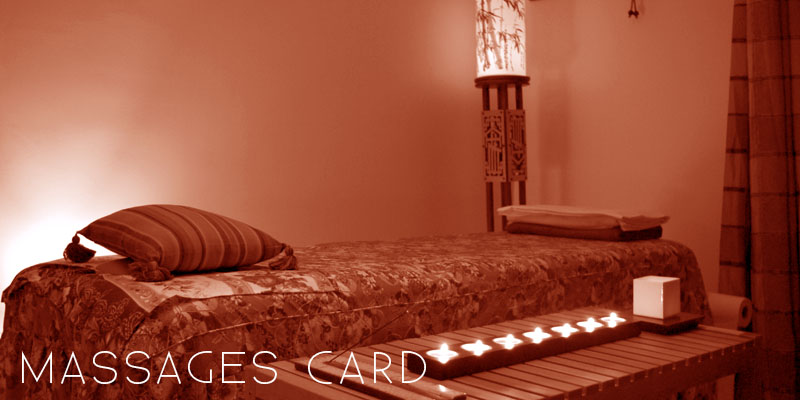 Massage
Prices
Duration
body
40,00€
01h00
head
20,00€
30 min
nape
20,00€
30 min
belly + stomac
20,00€
30 min
kidney
20,00€
30 min
hands + arms + feet
35,00€
01h00
head + body
56,00€
01h30
body + feet
66,00€
02h00
head + body + feet
86,00€
02h30
4 hands
68,00€
01h00
traditional chinese methods
cupping care
30,00€
20min
gua sha
30,00€
20min
CUPPING CARE
The cupping glass adheres to some parts of the skin and produces a stimulation which enables skin decongestion so as to treat various diseases. Its functions are multiple: promote blood and energy circulation, spread out cold and humidity,jugulate pains, treat respiratory affections, cold snaps, chills, flus and so on.

GUASHA
Guasha is a decongestioning and painkiller massage technique propitious to the treatment of chronic or acute troubles. Thus, the method consists in bringing the Shas out of the skin surface by frictionning or scarping them quickly over an oiled skin with the help of a little round-edged spatula. Rubbing aims at evacuating energy or blood congestion indeed a general inflammatory state.


• We use Chinese traditional oils and plants for each of our massages. Some of them are rare and require an extra charge(10€/20€).
• Our massage providers are expert in using cupping glass, moxibustion, acupressure and Gua Sha.
• We propose in the massage parlour a preferential card. (6th massage offered).


Caution: This massage parlour strictly practises Chinese traditional massage!

XUE ZHONG HUA 91 rue de javel 75015 Paris | tel : 01 45 79 63 67 | Mιtro : Charles Michels ligne 10 - Fιlix Faure ligne 8 - Javel RER C